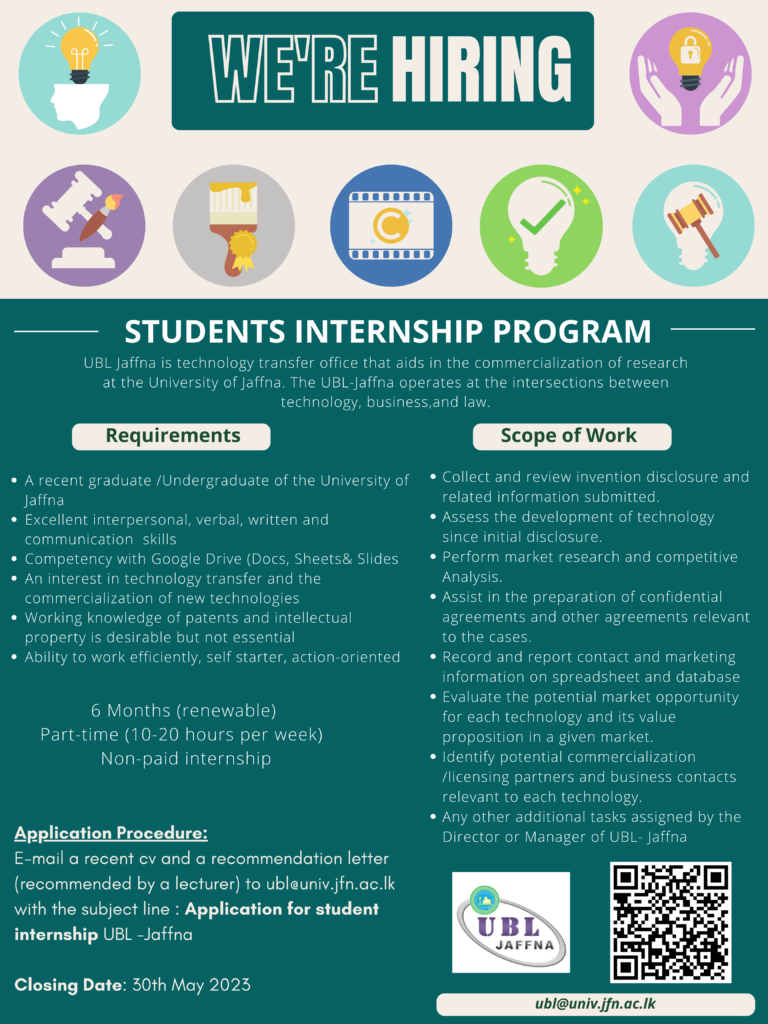 KEY TASKS:
Activities in which the Technology Transfer Intern will participate will include:
Collect and Review invention disclosures and related information submitted 
Assess the development of technology since initial disclosure (may include speaking with the primary inventor) 
Perform market research to understand the competitive environment (Internet searches, industry publications, calling organizations) 
Evaluate the potential market opportunity for each technology and its value proposition in a given market 
Write non‐confidential technology summaries for marketing purposes
Identify potential commercialization/licensing partners and business contacts relevant to each technology  
Contact identified partners to market technology 
Record and report contact and marketing information on a spreadsheet and/or database 
Assist in the preparation of Confidentiality Agreements and other agreements relevant to the cases 
Assist in the evaluation of license terms by researching comparable transactions 
Participate in business calls and meetings resulting from marketing efforts 
Participate in the negotiation and execution of transactions resulting from marketing efforts (if appropriate)
Report on progress and meet with staff members and research students on regular basis
Present results of projects to a larger audience as necessary
This is a role of great responsibility and potential impact since the activities of the UBL-Jaffna Intern will directly influence the successful translation of the leading-edge research performed by University of Jaffna researchers into a commercial setting thereby facilitating an impact of the University's innovative science and technology for the broadest public benefit.
Through the course of the program, acquire an introduction to the field of technology transfer, intellectual property management, and marketing
Acquire marketable skills and learn about other career paths
Participate in special training and seminars on relevant topics
METHOD OF RECRUITMENT:
Selection by interview, This is a full-time/part-time job. The Contract Appointment shall be for a period of 06 months of Non-Paid Internship. This is an unpaid position, but the selected Intern will gain hands‐on business development experience while learning about the technology transfer field.
REQUIRED QUALIFICATIONS AND EXPERIENCE:
The required qualifications and experience are as follows:
Education qualification required: Undergraduate or recent graduate of the University of Jaffna
Can commit 10-20 hours per week at the UBL-Jaffna for at least six months time. Intern performance will be assessed every three months. The program length may be extended for interns in good standing.
An interest in technology transfer and the commercialization of new technologies
Working knowledge of patents and intellectual property is desirable but not essential
Excellent interpersonal, verbal and written communication skills
Ability to work efficiently; self‐starter; action‐oriented.
Excellent interpersonal, analytical, and oral/written communication skills; professional demeanor; proficient computer skills and other office basics; good organizational skills.
Extensive research experience is preferred.
Be in good academic standing and have approval from their academic staff
HOW TO APPLY:
Submit the following information via email to ubl@univ.jfn.ac.lk:
The term you wish to intern
Cover letter
Resume
Written permission from the research staff or faculty Coordinator
This internship program is highly competitive and no one is guaranteed admittance. Nor is there any implied or guaranteed offer of employment upon completion of the internship.